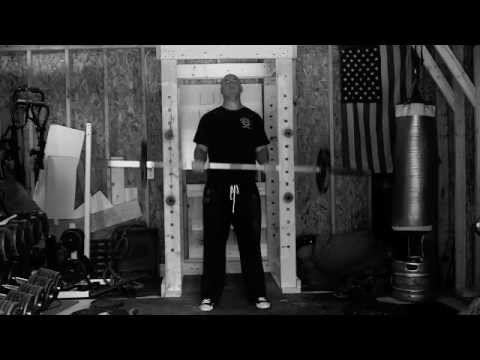 Started deadifting again about six weeks ago, hardly deadlifted in the previous year. Been using a double overhand grip since I started again, it definitely works the grip more. Keep the increases small, 10-15 lbs a workout.
I don't increase the weight until I can do 5 sets of 5, keeping the rest periods to under 3 min with a goal of 2 min. I only did 3 sets this workout, I just listened to my body, the grip was starting to slip on the last couple of reps, so the next workout I will go for 5 sets of the same weight.
When I do any type of bodyweight training I keep the rest to 1-2 min. The suspension trainer is awesome, I made it for under $35, I will be making a video soon showing you how you can make one, it is very simple.
You can get a killer workout with it, and it is great for warming up, you just adjust the angle of your body to make it harder or easier.
Oh and by the way, it is ok to to do some isolated exercises, like barbell curls or skull crushers or anything for that matter. While the whole functional movement craze is great, "bodybuilding" exercises aren't all bad. The problem was most people always trained their body as isolated parts and many times on machines, which gave people "gym" strength, but they were not able to transfer it into real life or on the field. Get your core strong, learn how to do full body movements such as deadlifts, squats, kettlebell swings, snatches, cleans and many others, learn how to move your body as a whole unit. If you can't do a pushup without your ass sagging, you might want to stay away from the concentrated curls and the tricep pushdowns, until you can.
Get Hardcore!
Craig
P.S. an awesome resource for hardcore training is the Underground Strength Manual CHECK IT OUT!